spantik Expedition
Spantik or Golden Peak is a mountain in the Spantik-Sosbun Mountains subrange of Karakoram in Hispar Valley of Nagar District, Gilgit-Baltistan region of Pakistan. Its northwest face features an exceptionally hard climbing route known as the "Golden Pillar". It lies east of Diran and northeast of Malubiting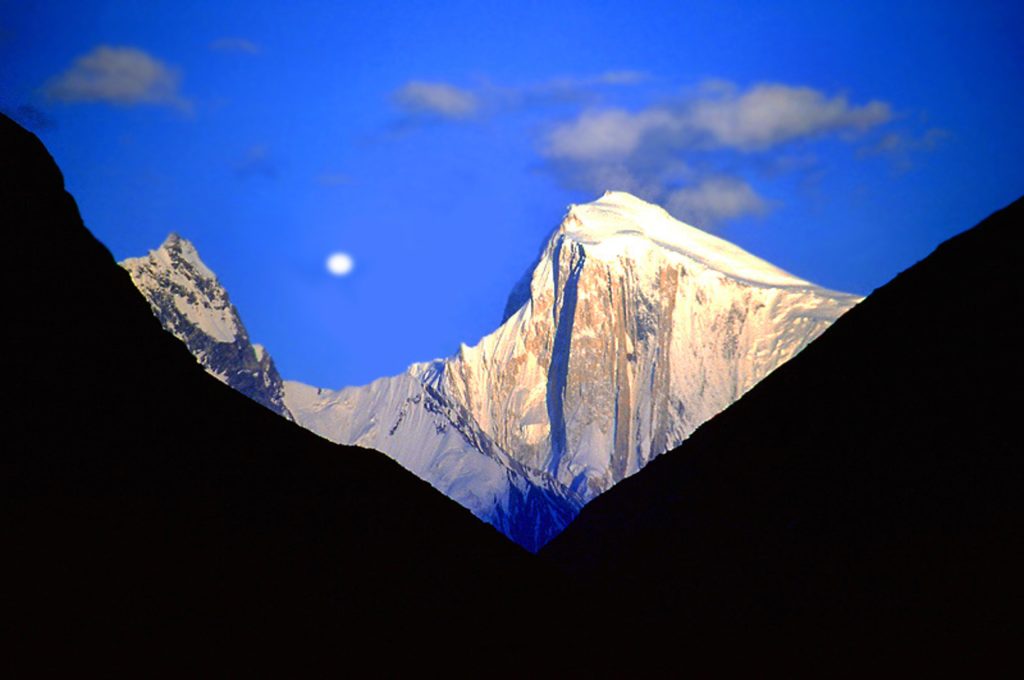 Overview
Itinerary
Equipment List
Terms & Condition
Overview
Spantik or Golden Peak is a mountain in the Spantik-Sosbun Mountains subrange of Karakoram in Hispar Valley of Nagar District, Gilgit-Baltistan region of Pakistan. Its northwest face features an exceptionally hard climbing route known as the "Golden Pillar". It lies east of Diran and northeast of Malubiting.
With the help of Skardu Expeditions Tracks and Tours, you can showcase your abilities. Your landing in Islamabad marks the beginning of our 60-day K2 tour. All the preparations, such as airport pickup, briefings at the Ministry of Tourism, flying to Skardu, treks, acclimatisation, your arrival at the K2 base camp, and everything in between, will be handled by our incredibly passionate, committed, and experienced personnel.
Climb spantik with Skardu Expeditions Tracks and Tours:
The Spantik Expedition comprises challenging climbing and walking at a high altitude on the way to Spantik Peak in the Karakoram. Mountain Spantik is It offers a fun climb and is located south of the massive Hispar glacier, above upper Chogolungma. The route that leads to the lovely campsites beside the Chogolungma Glacier provides views of the mountainous landscape with its countless tall peaks. Every mountaineer should participate in the Spantik Expedition to get ready for higher Himalayan and Karakoram peaks.
Skardu Expeditions Tracks and Tours can assist you in turning your ambition of climbing spantik into a reality. If, then K2 is reachable:
Stunning wild and remote scenery Trek to Spantik Mountain Base Camp
Spectacular Views of K2, Nanga Parbat and other peaks from Flight to Skardu
Explore The Ancient Himalayan Kingdom of Baltistan
Experience the picturesque Shigar Valley in Pakistan
Spectacular Mountain Vistas during the Expedition
One of the world's top Climbing and Mountaineering Adventure.
Itinerary
Equipment List
Terms & Condition